Thanks to the integration with Pleo, our customers will be able to see payment transactions appear in Pleo with the PDF invoices from TravelPerk attached as soon as travel is booked in TravelPerk.
What is Pleo
Pleo is an out-of-the-box business spending solution that offers smart payment cards and automated expense reports for employees, enabling them to buy the things they need for work while giving finance teams full control and visibility of all company spending.
Pleo catches receipts on the go, automatically categorizes expenses based on previous behavior, and eliminates the need to do manual expense reports.
How the integration works
Now, with the integration, users can make a booking on TravelPerk using a Pleo card, and have their expenses and invoices automatically added to their Pleo accounts.
A user books a flight, train or accommodation on TravelPerk using Pleo card.

Pleo receives the transaction and automatically sets the expense categories.

Pleo pulls the invoice and any additional data from TravelPerk.
💡 Only a person booking a trip gets the receipt inside their Pleo account.
For the automation to work, first you need to enable the integration in your TravelPerk account.
How to set up the integration between Pleo and TravelPerk
💡 Please note three important things:
The user setting this integration up needs to have both administrator access to TravelPerk and to Pleo;

The integration is available only to Premium or Pro users of TravelPerk;

A Pleo card should be set as a Payment method for the integration to work.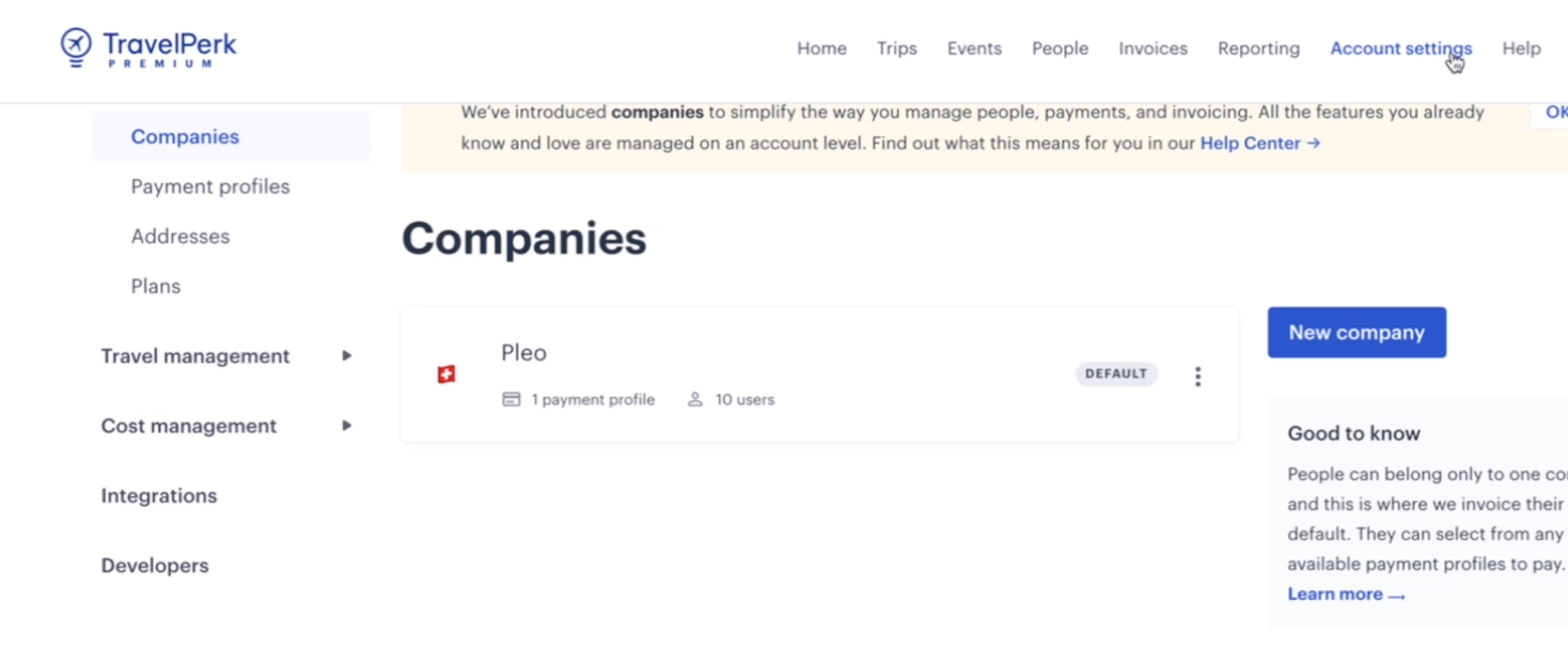 If you still haven't added Pleo as a payment method for TravelPerk accounts of your organization, start by following the steps listed in this article:
If you already have Pleo cards added to TravelPerk user accounts, let's start the setup.
1. If you haven't yet logged into your TravelPerk account, do it now, and click on Integrations under the Account settings in the upper menu or follow this link.

2. Find Pleo in the list of integrations and click on Set up. On the next page you see, click on the Enable button.
3. You will be redirected to the login screen in Pleo. Log into the Pleo account that has Admin rights.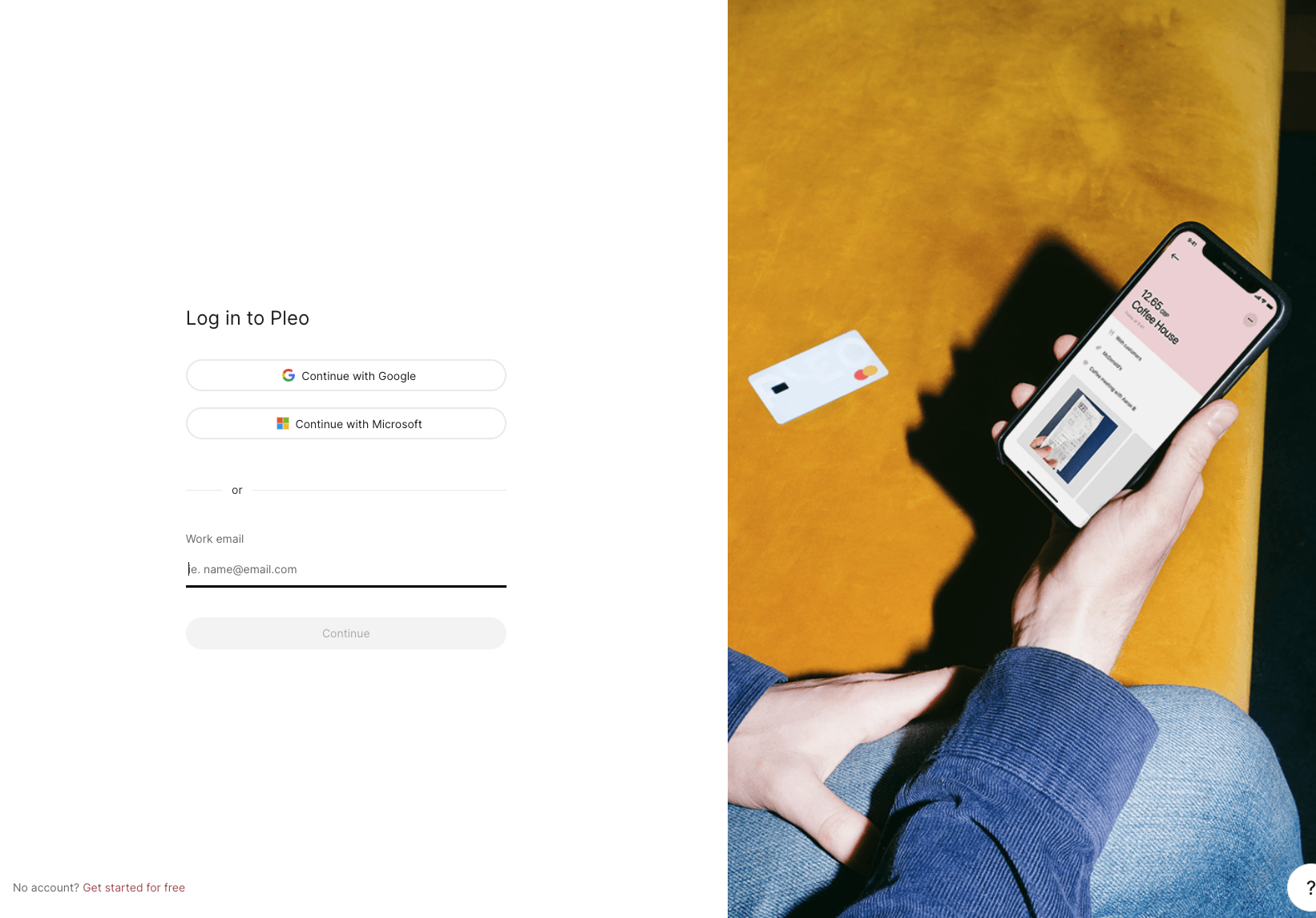 4. After you have logged in, you will see a window asking to authorize TravelPerk's access to your invoice data in TravelPerk. Authorize the access.
5. Afterwards, you will be redirected back to the Integrations page in TravelPerk.
🔄 Vice versa, you can start at Pleo, go to Settings > Power-ups > TravelPerk, and click on the Enable button. You will be redirected to TravelPerk to complete the integration.
Both approaches work, it doesn't matter where you begin.
Guide to using the integration
1. Book a trip (a flight, a train, a car, or accommodation) using your Pleo card (make sure you selected the Pleo card in the "Pay with" menu).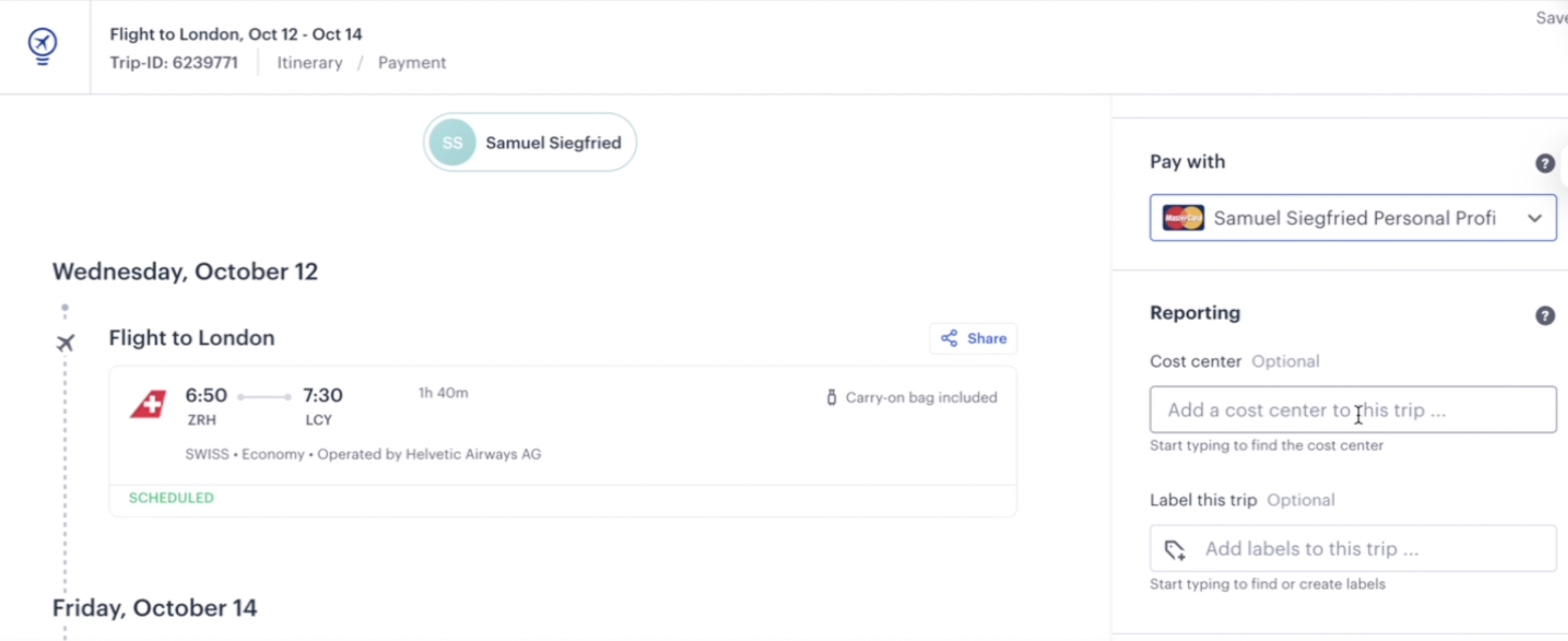 2. After the booking has been completed, go to your Pleo account and open Expenses — you will see a fresh transaction with the title that contains "TravelPerk".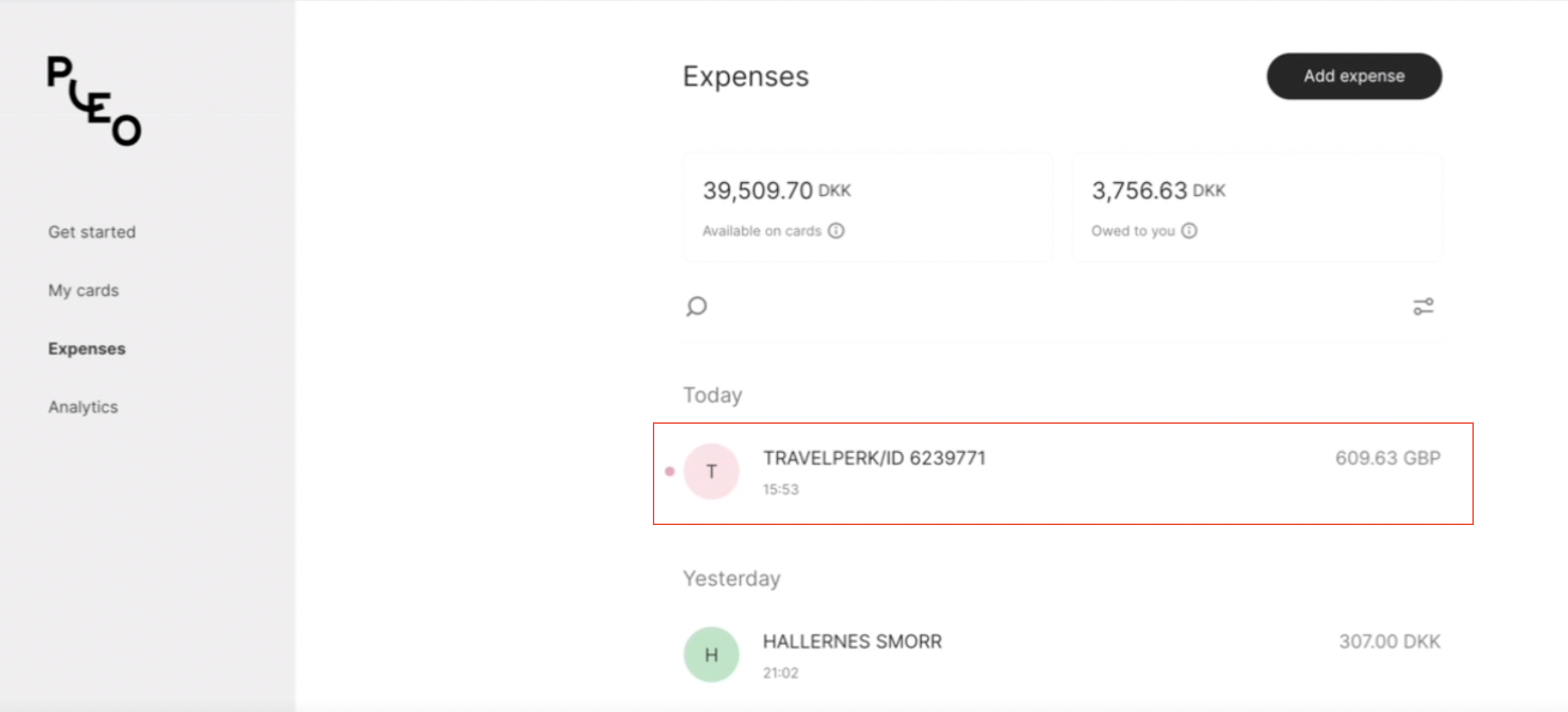 It might be so that it will take a few minutes for the PDF of the invoice to arrive. Until then, you will see a red dot near the transaction and a notification about the missing invoice.
3. When the invoice arrives, you can find it inside the transaction. Click on the TravelPerk transaction in question. On the page that opens, you'll see a preview of the invoice. Click on it to read it.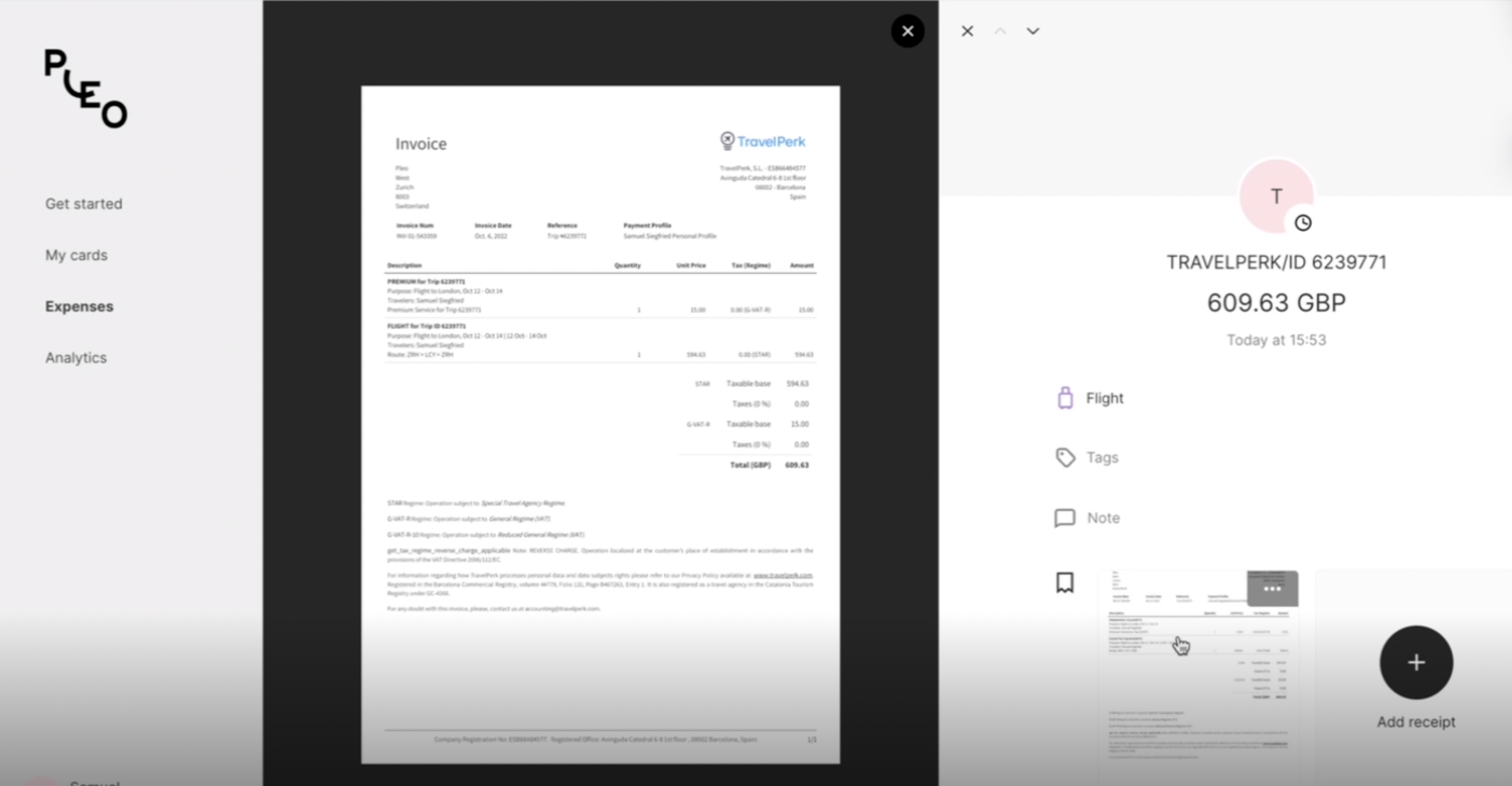 You can also click on "..." in the upper right corner of the preview to download the invoice.
FAQ
How do I know that the integration works?
If you are a TravelPerk platform admin, you can check the integration status by going to Account settings > Integrations > Enabled Integrations. Pleo will be marked as an enabled integration — indicated by the green "Active" sign.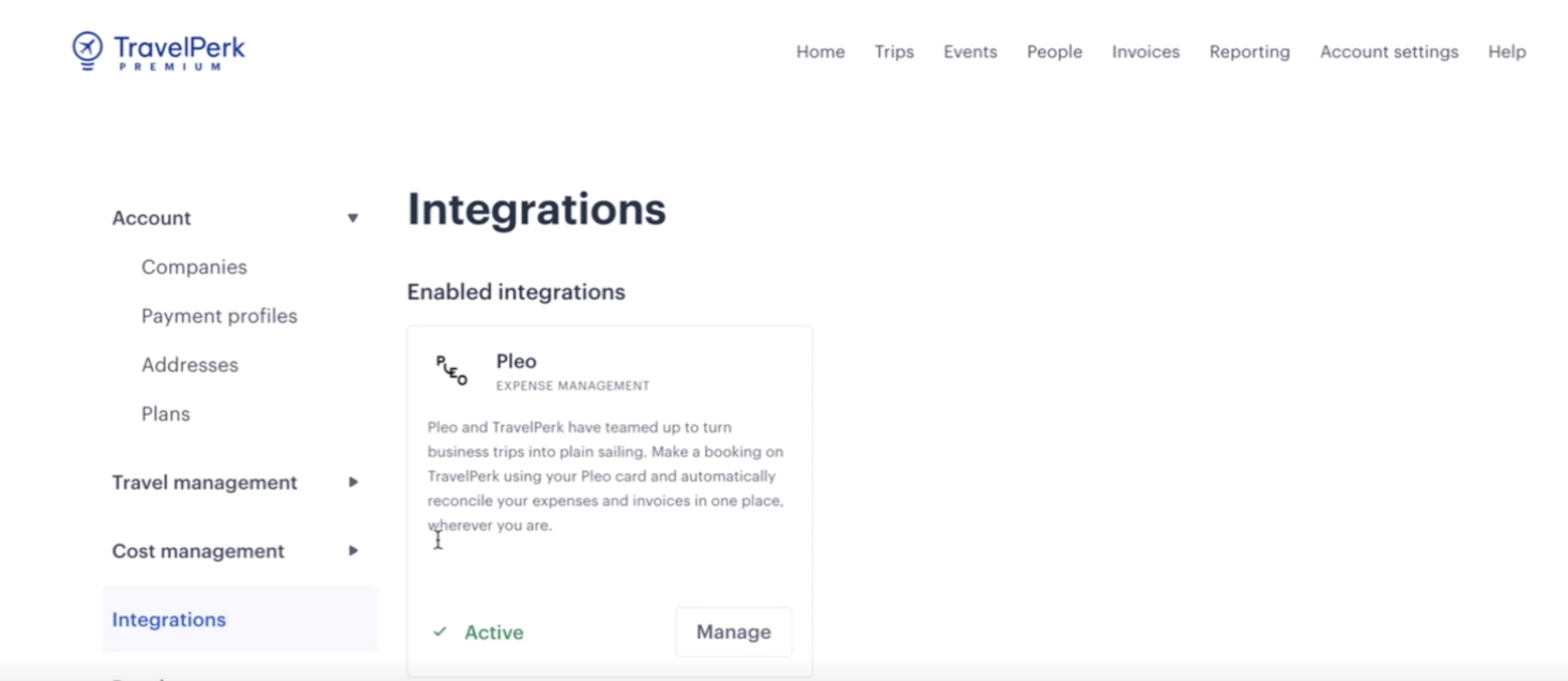 How can I disable the integration?
After authorizing and setting things up, you will see Pleo among your enabled integrations in TravelPerk. If you are an Admin, go to Account settings > Integrations > Enabled Integrations, find Pleo, and click on the Manage button on it. Here you can choose to disable the integration.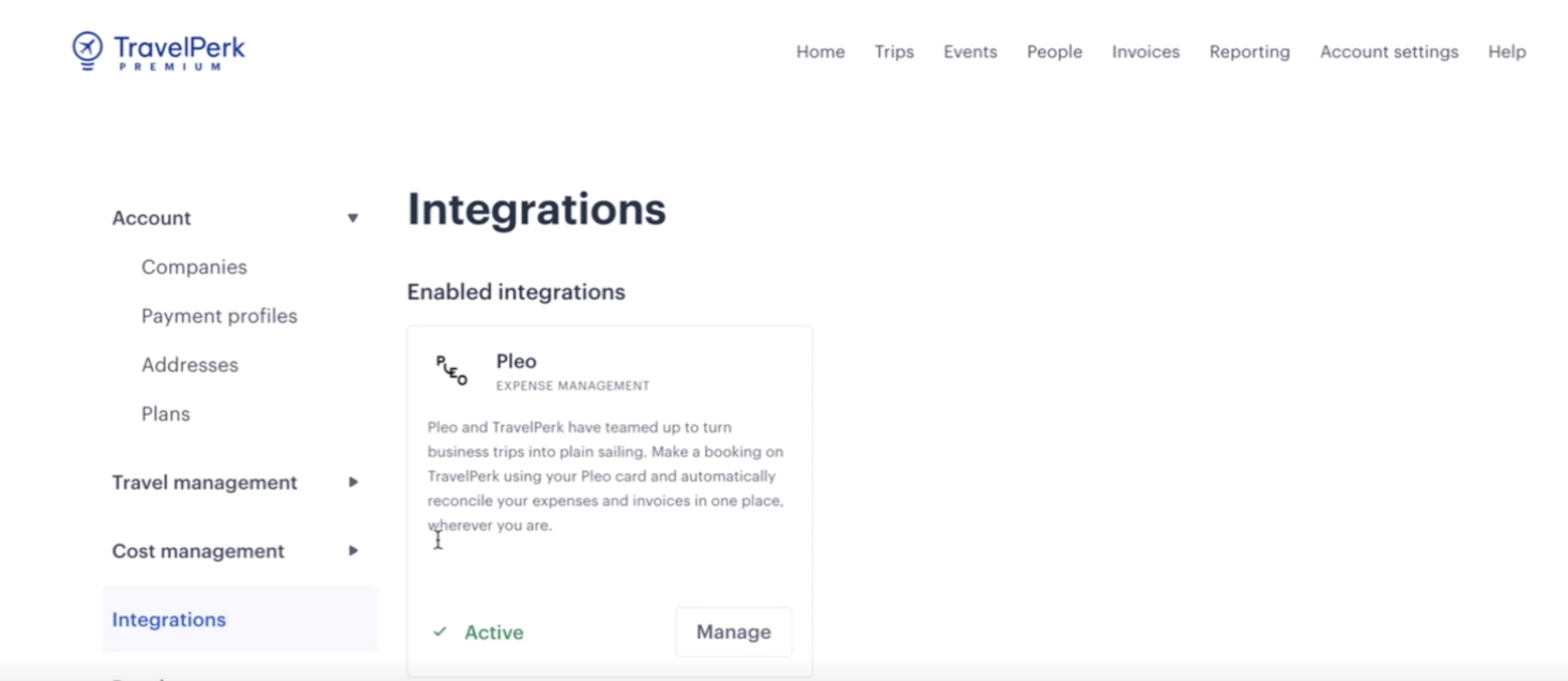 Alternatively, same as with the activation process, you can disable the integration on the Pleo side by going to Settings > Power-ups in Pleo and disabling the TravelPerk integration there.
When the booking has been changed or canceled, do changes apply to the expense already sent to Pleo?
Unfortunately, they are not.
What data does TravelPerk share with Pleo?
TravelPerk allows Pleo to read your company's TravelPerk invoice data such as:
TravelPerk Trip ID

Total amount (spent on a booking)

Currency (of a booking)

PDF invoice (of a booking)

Category (of a booking, e.g. "flight")
Do I need to be a Pleo customer to use the integration?
Yes, it's necessary to be a customer of Pleo. If you are not a customer but would like to give it a try, request a demo here or share a link with a responsible person in your company. Alternatively, you can ask your TravelPerk Account Manager to set up an intro with Pleo.
I still have questions about the integration setup. Whom can I contact to get help?
Please contact your Account Manager at TravelPerk.