Who can use this feature?
Only admins have access to the Express Approvals settings
How does is it help users and companies?
⏳ Save time by 15 hours faster resolution on modification changes
💰 Reduce travel cost by 16% on modification changes for pre-approved trips
📈 Save money by avoiding 200% price rise while waiting for a trip approval

Why is better to have simple reschedule as a default?
💡 Prices increases steeply near to the departure date
💡 5-10% of bookings are sold out by the time they are approved

What are the different modification approval processes?

How can you set it up?
For any existing approval process, we have selected by default the express approval type that best reflects your approval process' rules. To review or edit it, and activate it, all you need to to do is:
Go to the Approval processes page

in your account

Click on the three dots in the top corner of your approval process and select "Edit", then click on "Activate feature"
Review the selected approval for changes to booked trips. If you make any changes, remember to then click on "Save changes", otherwise, click "Cancel" to leave it as is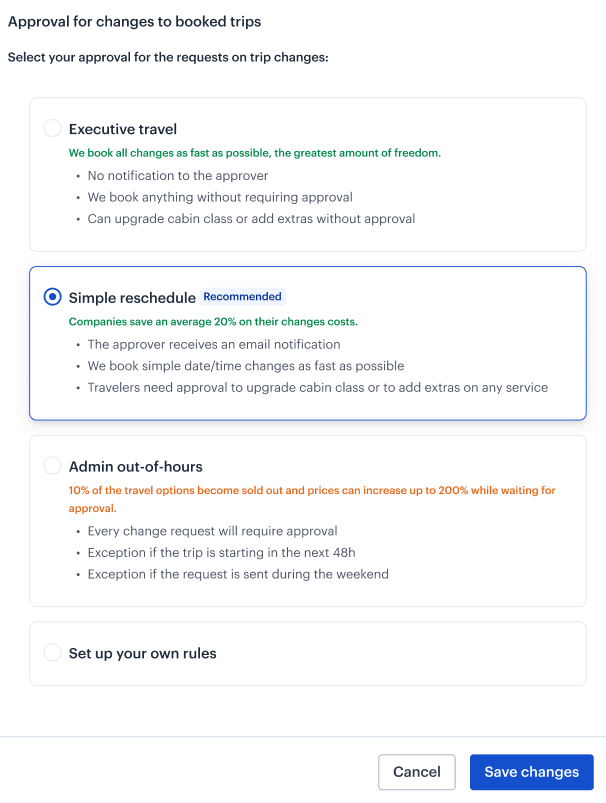 For any new approval process, you'll be asked to select one of the approval types.
FAQs
What is the recommended type of express approvals based on?
The recommend express approval type is the one that best reflects your existing approval rules.
For example:
If you have "Notify if " -> Then, the recommended express approval is "Simple reschedule".
If you have "No approval needed" -> Then, the recommended express approval is "Executive Travel".


Will I be able to add a price threshold for approvals?
No, currently this is not possible. But it is something we are looking to introduce in the next iterations of this product, depending on your feedback. In this first version, you can choose the "Set up your own rules" type to combine the different approval options as best suits you.


Can I customize admin out-of-hour time (eg. to set holidays, part-time, different weekend days, and bank holidays according to countries, etc.)?
In this first iteration of express approvals, the out-of-hour time is set to consider the weekend (Friday night to Sunday), but we will include more options in the future iterations of this feature, based on your feedback.


Will I be able to change the default express approval type after activating it?
Yes, you will be able to edit the approval type any time after activating it, like any other policy and approval setting.


Will I be able to deactivate the express approvals?
No, but you will be able to edit the approval type. If you select "Set up your own rules", you will be able to define your preferred approval flow in case of modifications to a booked trip.



What if I don't activate the feature?
On Jan 23 '23, we will activate the feature for all accounts that have up to 100 active approval processes, with the recommended express approval type. For all accounts that have over 100 active approval processes, the feature will remain optional even after Jan 23 '23.


How does the cost center attribution work?
If you select one of the pre-set express approvals (Executive travel, Simple Reschedule, Admin out-of-hours), it will follow the same rules that you set for each policy. That's to say, it will follow the specified approver by cost center, or revert to company default when not specified.
If you select " Set up your own rules", this overrides everything and you are forced to select an approver.