Who is this guide for?
For Travel Managers making booking and managing trips for other travelers.
The Travel Manager role has the necessary permissions to make and manage bookings for other travelers, without having access to all the information and settings that admins normally manage.
As a Travel Manager, you'll have certain travelers assigned to you, and you'll be able to edit their profile details (everything but their role and account settings), book, review, and manage trips for them with total autonomy.
Let's have a look at the key things you'll be able to do using TravelPerk.
Step 1 — Book your travelers' trips all in one place.
With TravelPerk, the Travel Manager can easily search and book trips for other travelers that are assigned to you all in one place. When starting a search, click on "add a traveler" and select the user you will book the trip for.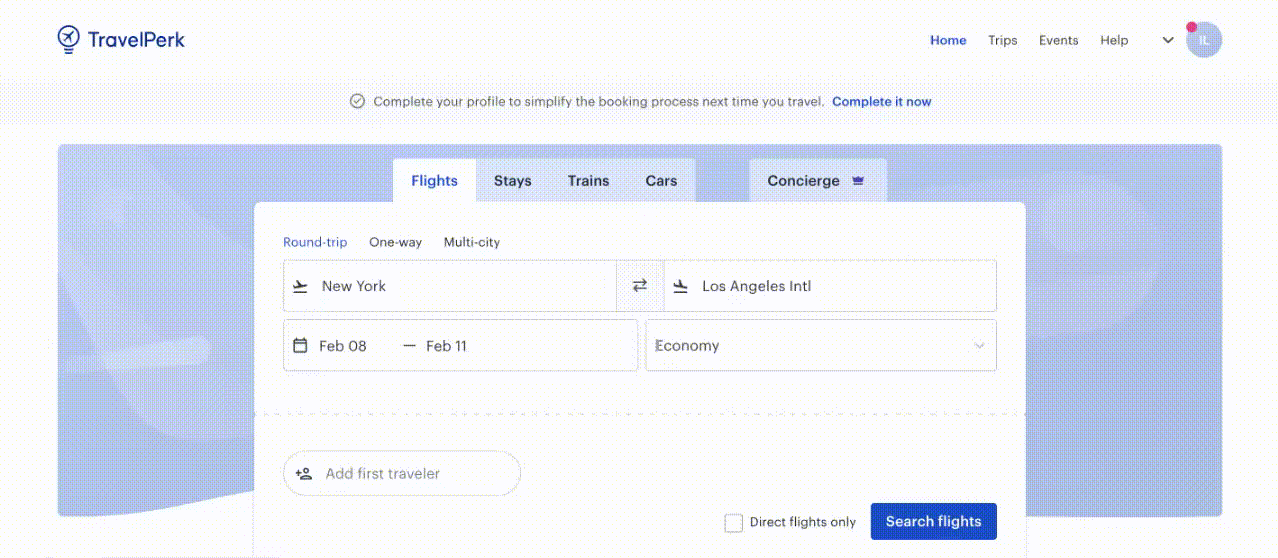 Here are some articles you might find useful:
As a Travel Manager, you will be able to skip approval and complete your booking straight away. So if you are booking a trip for a c-level traveler or if the trip is urgent, you won't need to wait for approval to confirm the trip. Whatever option you choose, the approver will always get notified of any new booking to ensure visibility. 
Just so you know, Travel Managers can approve trips of their assigned users (if they are in their approval process).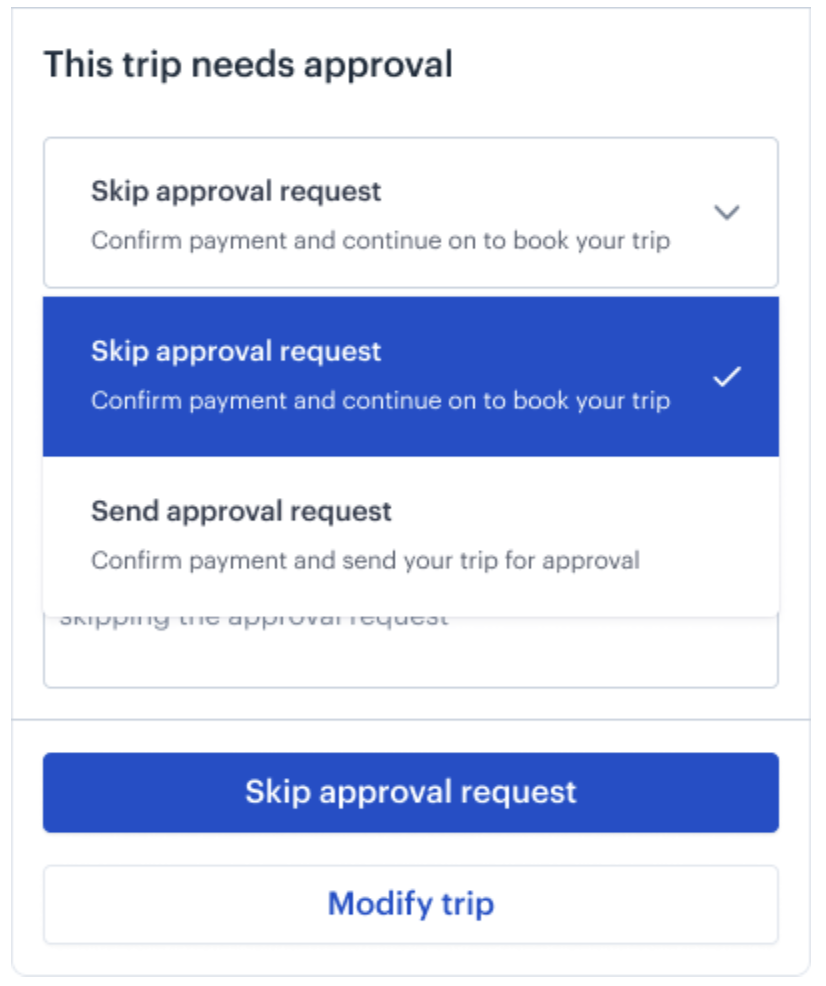 You'll be able to add a message that the approver will receive in the notification email.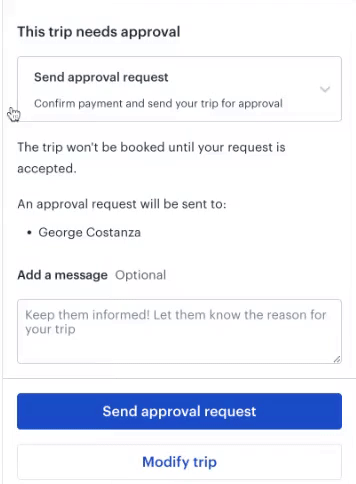 Admins and financial controllers will be able to check in the reporting for which and how many trips the approval was "skipped" by filtering by the "SKIPPED" value in the Approver column.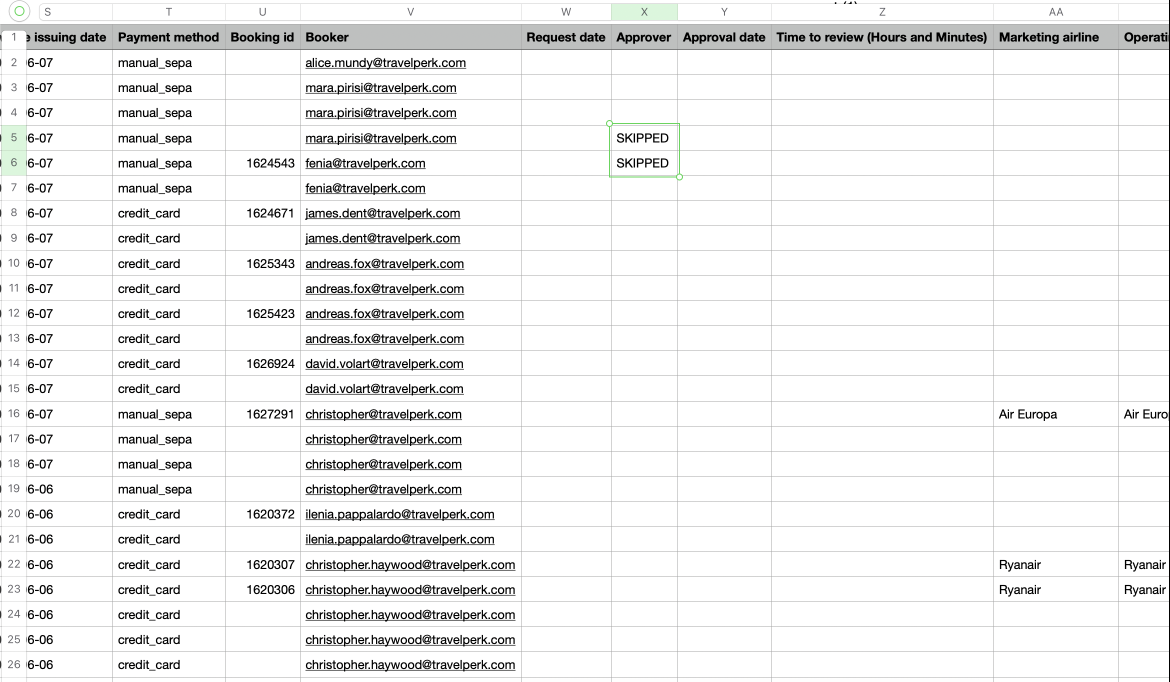 Step 2 — Edit traveler's details.
The travel manager role has all the necessary permission to edit the profile of any travelers that are assigned to them.

You will be able to edit:
✅ Travel document details;
✅ Loyalty programs;
✅ Train discount cards.

But please note:
❌ Travel managers won't be able to edit the role or account settings of travelers.
❌ Travel Managers cannot create new users, nor invite new people to join the company account.

You will be able to access the user profile:
On the Homepage, after adding a traveler to the trip.



In the Itinerary page and the Request approval page (the page before sending for approval).
Here are some articles you might find useful:
Step 3 — Review and manage trips
The Travel Manager will be able to review the trips of the travellers that are assigned to them by going to the Trips page and make any necessary edits. This includes the approval of trips of the users they manage, or modifications and cancellations. In case of support requests, the Travel Manager will act as point of contact for customer care.


What's next?
For any questions, emergencies, or last-minute changes or cancellations, remember you can contact our Customer Care team 24/7. 💁‍♂️
And don't forget, the Help Center is here to guide you through some of the most common customer questions!