Tip: if you see Companies in your Account settings, it means you are using the new company structure.
What are companies?
Companies are our way of separating the different legal entities inside your account. For example, you can have the legal entities Acme Corp Ltd, Acme Corp Inc, and Acme Corp SL under the account Acme Corp.
Companies are designed to manage and control people, invoicing, and payments on a legal entity level. As users can only belong to one company at a time, this reduces any friction when selecting how to pay and where to invoice the trip at payment.
Other settings, such as travel policies, approval processes, and cost centers are managed on an account level.
How to use companies
In your TravelPerk account, create as many companies as you have legal entities—for example, one for Ltd, Inc, and SL, etc.
You'll then be able to add people to the company manually or give them access through an identity provider using SCIM or SSO.
Inside the company, you can set up payment profiles that determine how people will pay for trips. Most people only have access to their company's payment profiles. For example, if a user belongs to Inc, they won't be able to see any payment profiles for Ltd. An exception to this rule is the case of admins, who have access to all companies and all payment profiles in an account.
By default, trips will be invoiced to the company the travelers belong to.
How do I create or edit a company?
Creating a company for the first time
If you're an admin, you can create different companies and assign people and payment profiles to them.
The first company you create will be the default company. If new users are added to the platform and the company is not specified, they'll automatically belong to the default company. Once you've created multiple companies, you can set any of them as the default.
Go to Account settings, then Companies
Press Get started
Enter the company name, address, and VAT number if applicable. You can also enter an address display name—like San Francisco HQ—and choose whether you want this address to show up when searching for hotels.
Press Add company
Creating subsequent companies
Once the default company exists, you can add as many companies as you need to your account.
From the Companies page, press New company
Enter the company details and press Save
Editing a company
There are specific rules around editing companies. You can only edit company details if the company only has payment profiles with credit cards as the payment method.
In the case that the company has payment profiles that use a different payment method, then you can only edit this company if no bookings have yet been made.
How do I remove a company?
If you have multiple companies, and no longer need some of them, you can remove them from your account.
From the Companies page, find the company you want to remove and press the 3 dots in the top right-hand corner
Select Remove company
If the company has users assigned to it, you will need to choose whether to Assign them to another company or to Remove them.
Check the box to understand that removing the company will also archive the payment profiles.
Press Remove company to complete the action.
What's flexible invoicing?
Flexible invoicing is a setting Admins can configure in the Companies page to manage how users can pay and invoice their trips.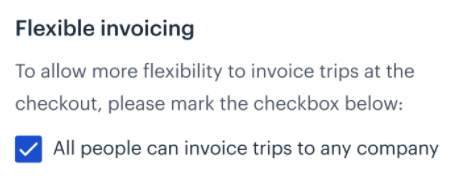 When checked, any user who belongs to Company Inc will be able to select at the checkout page any invoice company and select any non-restricted payment profile of that Company.

When unchecked, any user who belongs to Company Inc won't be able to select the invoice company or see any payment profiles that belong to a different legal entity, E.g. Company Ltd.
Exceptionally, all Admins will be able to select any setting at the checkout page, as they have access to all companies and all payment profiles of their account.