Do you or your coworkers frequently visit company, client, or supplier office locations?
Do you want people booking a trip to stay in close proximity to those locations?
TravelPerk makes it easy for you to browse relevant accommodations close to your set locations.
1. Adding company addresses
After signing into your TravelPerk account, click on Company Settings.
Select Addresses.
Click on Add address to enter a new address.
If you want the address to be used when searching for hotels, tick the box Allow this address to be used when searching.
Select the Type of address:

Office;
Client;
Supplier;
Other.

Under Location, you will be able to check if our system has the right address. In case you need to make adjustments, simply move the pin on the map.
Click on Save address.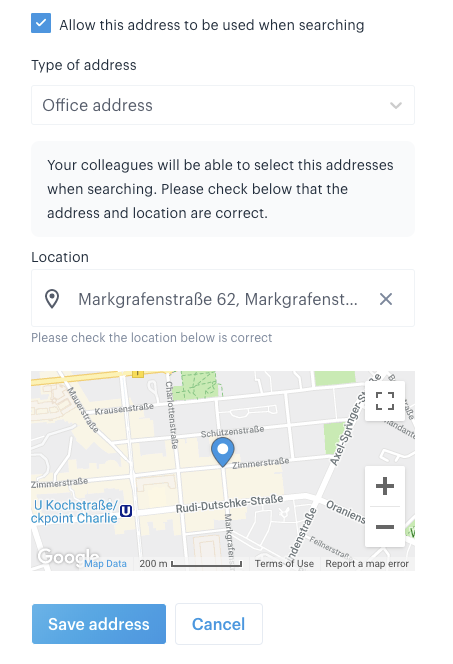 Note: You need to have admin user permissions in order to create company addresses.
Searching for hotels by office locations:
With your addresses set up, click on the Hotels search tab on the homepage and you will see the list of office/ client/ supplier addresses you created.
Select your check-in/ check-out dates and travelers.
You will then see accommodation results close to the location you set up!

Good to know: The radius for location searches is limited to 2km to ensure you can conveniently walk to your address within 10 min.