FlexiPerk is a cancellation policy that lets you enjoy the most flexible business travel ever. Book any flight, hotel, car, or train and cancel anytime. No back and forth—just your money back.
FlexiPerk gives travelers the flexibility and peace of mind to cancel any booking, without losing the company money.
Note: FlexiPerk is now available for trips invoiced to the UK, US, all 27 EU countries, Switzerland, the UAE, Singapore, and Mexico.
How does it work?
All Premium and Pro customers can add FlexiPerk to their flight, or their whole trip for a variable fee - on average 15% per trip. This allows them to cancel for any reason, up to 2 hours before travel, or until 4 pm on the hotel check-in day.
To request a cancellation on a booking that's been confirmed, you can either:
Go to the Help center page and select Change or cancel a trip, or
Go to the Trips page of TravelPerk, press Manage trip, then select Cancel a booking.
You can also contact our Customer Care team via chat, phone, or email and you'll be able to cancel. TravelPerk will take care of the rest, and you'll get the refund in as little as 7 days.
Note: All refunds are given as credit to spend on the TravelPerk platform for any future trip, with no expiration date.

How can you extend FlexiPerk coverage to all your trips?
If you want to protect all your trips and get the peace of mind that any trip will be refundable, then you can choose to add to your plan :
FlexiPerk company (available as add on to any plan) - to cover all trips of the whole company at a flat 10% fee per booking.

FlexiPerk groups (Premium and Pro only)- to cover all trips of a set group of travelers (min. 5) at a flat 20% fee per trip.
They are available to customers who have at least one cost center in the UK, US, all 27 EU countries, Switzerland, the UAE, Singapore, and Mexico.
Good to know: FlexiPerk company can be added to your plan directly from the plans page in your TravelPerk account, by accepting the Terms and Conditions. For FlexiPerk groups, you can submit a request from the plans page, and one of our account managers will handle it.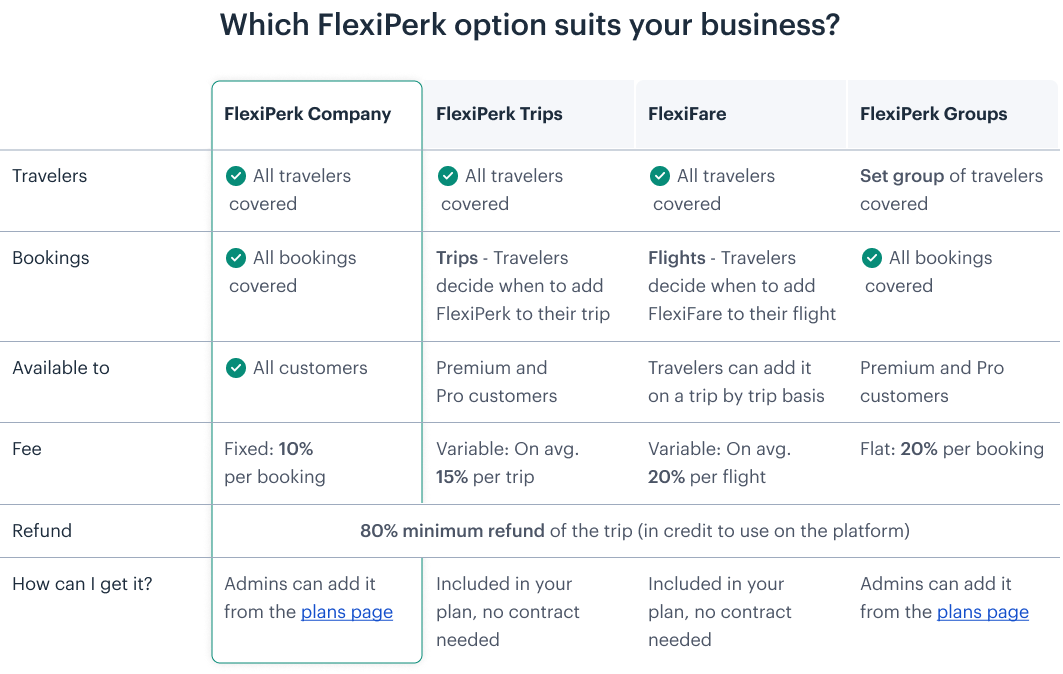 FAQs
Does FlexiPerk only apply to non-refundable prices or flexible fares also?
FlexiPerk applies to any trip you book on the TravelPerk platform.
What is the difference between FlexiPerk and flexible fares?
FlexiPerk covers your entire trip, so you'll be able to cancel everything at once, or just a service (hotel, flights, train, etc.), and you can cancel for any reason. TravelPerk takes care of everything, from cancelations to refunds. Flexible fares are on average more expensive than FlexiPerk's fee (up to 40% more) and their terms vary depending on the service and provider. With traditional flexible fares, handling the cancelation is time consuming, and you need to cancel each service separately. Refunds can take a long time to be processed and usually come with conditions.
How is FlexiPerk better than traditional flexible fares?
FlexiPerk has very simple terms that apply to the entire trip - you pay a set fee, and know you'll always get at least 80% back. You can cancel up to 2 hours before your trip, and the refund has no expiration date, or conditions. So you know what to expect, and save a lot of time as you only have to request the cancelation.TravelPerk will take care of the rest. With traditional flexible fares, the refund terms and conditions vary by provider and service, which means you'll have to select it for each service and also handle the cancellation of each service (flight, hotel, train) of a trip separately.


Can we cancel mid-trip?
At this moment, changes mid-trip are not covered by FlexiPerk.
Can we cancel right up until the departure or is there a time limit?
You can cancel right up to two hours before your flight or train departure, or your car rental agreed pick up time. If you just booked accommodation, you can cancel anytime before 4 pm on the first day of your stay.
If you have checked into your flight, we cannot guarantee a refund.
Is there a limitation on how many cancellations we can make?
No, there's no limitation on the number of cancellations you can make. As long as you booked a trip as a FlexiPerk trip, you can cancel it. We do limit you to €5,000 per passenger, and €30,000 per trip.
Does it cover group bookings?
At this moment, FlexiPerk covers bookings of up to 8 people.
For FlexiPerk groups, can FlexiPerk travelers be on the same trip as their teammates without FlexiPerk?
No, at the moment, our platform doesn't allow this. They will have to book their trips separately.
How can I add FlexiPerk to my trip?
FlexiPerk trips will be shown to Premium and Pro clients that have not subscribed to FlexiPerk or FlexiPerk groups, when payment profile is invoiced to FlexiPerk available country.


Who can decide to add FlexiPerk trips cancellation policy?
The booker of the trip at the end of the booking process, when proceeding to pay or request approval.
The approver/s, when deciding to approve it or decline the trip, can choose to add or remove FlexiPerk trips cancellation policy, even if the booker had already selected it.


Can we opt out of FlexiFares and FlexiPerk trips if we don't want our travelers to see the option?
Yes, by contacting your account manager.


How straightforward is the cancellation process?
Super straightforward, you can cancel directly on the TravelPerk platform and contact our Customer Care team via phone, email, or chat at any time. You can find our contact details here: How do I contact TravelPerk?
How quickly will we receive a refund after cancellation?
It usually takes around 7 days for the refunded amount to appear as credit in your TravelPerk account.
Are there any terms for using the refund?
You can use your credit to book any trip on the TravelPerk platform that is invoiced to the same invoice profile where the refund was processed. There is no expiration date to your credit, so you can use it whenever you need.
Will there be any reporting available on how much my company has saved using FlexiPerk?
Each month we will send you an email summary detailing the trips booked by your company and how much you've saved because of FlexiPerk.
How long is the commitment for FlexiPerk Company?
You can cancel FlexiPerk company with a 30-day notice period. There is no other minimum contract length, spend, or penalty fee.