TravelPerk reports help you track your company's spend on travel. By using cost centers and labels, you can keep every trip categorized and generate reports on the travel spend for a particular project or department.
Who can use this feature?
By default, only Admins can access the company settings
How does it work?
In the Company Settings, under Cost Centers, you can tick the box Make cost centers mandatory for all trips.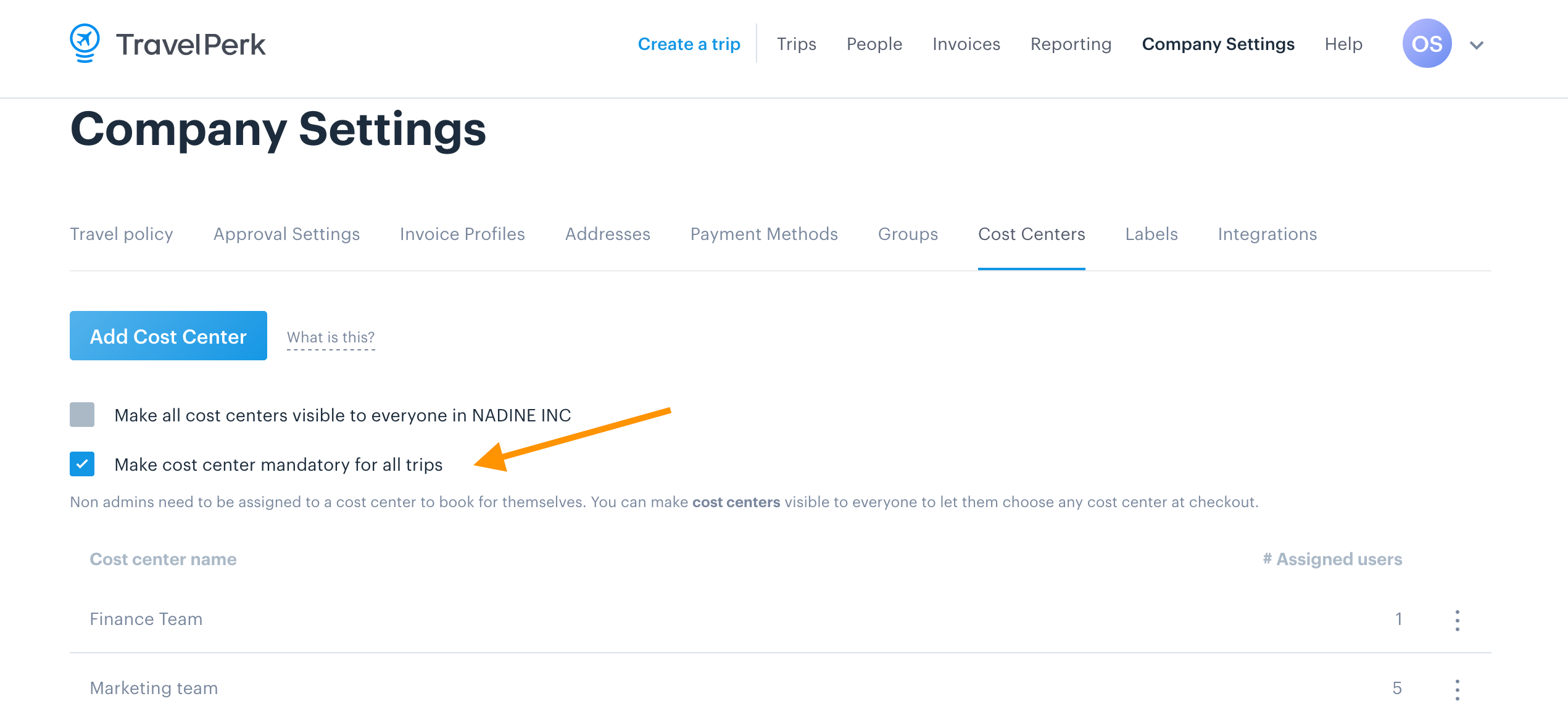 Then, when anyone from your company books a trip they will be required to select a cost center before checking out. Here's an example of the message they will see when checking out:

How does it help?
You may have already assigned all the non-admins in your company to cost centers, meaning the cost center is automatically selected when they book a trip. But a cost center won't be selected when:
Non-admins are booking a trip for more than one traveler (and those travelers are assigned to different cost centers)

The booking is made by an admin, who can always choose any cost center 

When you have selected the setting Make all cost centers visible to everyone
In any of these situations, it is possible for people to checkout without selecting a cost center. But if you make cost centers mandatory, they will have to pick one.
This means when it comes to reporting, you won't have any 'miscellaneous' trips, everything will be attached to a cost center. 
Ok got it, anything else to be aware of?
Warning: If you make cost centers mandatory, non-admins will need to be assigned to cost center to book for themselves. Before applying this setting, either make sure all non-admins are assigned to a cost center or select Make all cost centers visible to everyone to let them choose from cost centers at checkout.
It might be worth educating the people in your company who book on TravelPerk that you've made this change. Here's a short message you can send out:
We have now made it mandatory to select a cost center for every trip you book on TravelPerk. This will really help us get the right data on our travel spend. If you're unsure of which cost center to select when checking out, please ask one of the company admins listed below and we can advise:
Ronnie Nbuya (example company admin)
Jakota Black (example company admin)
Priya Mistry (example company admin) 
If you need a reminder on how to select cost centers and labels at checkout, or get stuck, you can find answers in this article: Selecting cost centers and labels at checkout.
As an admin, you can also make labels mandatory. 🏷️