Hello 👋,
This guide is meant for those joining an existing TravelPerk account as a Traveler. Here you learn how to set up your profile and book your first trip.
If you are trying to set up TravelPerk for your company, head over to the Getting Started for Admins Guide.
Step 1 — Join Travelperk
You've probably already received an email invitation with your username. Click Login to Travelperk to get started!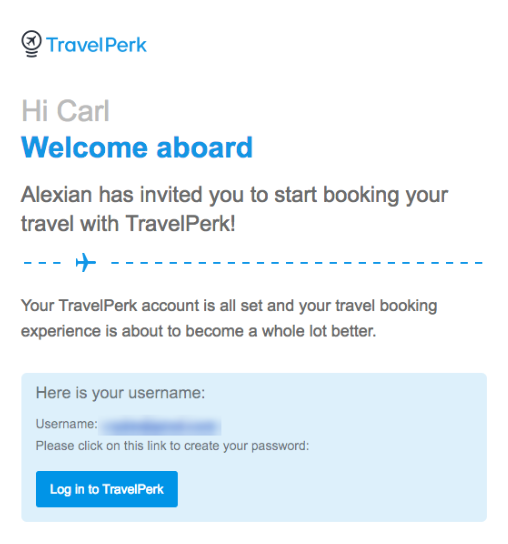 Note: If you can't find your invitation, check your spam folder or ask one of your admins to invite you again.
Step 2 — Fill out your Personal Profile
Filling out your profile with your personal data, travel document information, and details about your frequent flyer programmes will make all your upcoming travels a breeze. Go to your name → your profile and follow this guide on how to update your profile.
Step 3 — Start Travelling
Now you are ready to book your first trip!
Here are some helpful articles to get you going:
When should you contact TravelPerk? 💁
Emergency: For any critical change to your trip or emergency call at the number +34 675 699 167. They are 24/7!
Troubleshooting: if you experience anomalies using TravelPerk you can either contact immediately one of the customer support team using the in-app chat or send an email to agent@travelperk.com. They usually answer back in less than 2 hours.
When should you contact one of your Company Admin? 💁
Approvals/Requests: if you need a trip to be fast approved ( if your company has an approval process), then you can contact straight one of the admin to get your trip approved faster. If your trip is not scheduled for the day after or it's a high priority, your approvers will, in any case, receive a message with your request. Therefore, there is no need for another message if it's not a critical situation.
You need to become an Admin: ask one of your admins to change your role. They can do it straight from the platform.
At any time, drop into our Help Center to discover more about what you can do with Travelperk.
We hope this was helpful. And as always, don't hesitate to contact us if you have any questions or doubts.