Hello 👋,
Who is this guide for?
A company administrator setting up TravelPerk for the company.
Whether you're onboarding 5 or 5,000 people into TravelPerk, we understand that introducing your team to a new and unfamiliar tool can be a daunting task. Our Account Managers at TravelPerk are available to guide you through the process. If you haven't done so, request a demo and one of our Account Managers will be in touch.
Also, you might want to head over to the What is TravelPerk article if you'd like a refresher about TravelPerk in general. If your company's TravelPerk account has already been set up, and you would like to join as a traveler, then our Getting started for new Travelers guide is where you should go.
Step 1 — Onboard Your Travelers
Let's start by adding travelers to your Travelperk company account. There are 3 ways to onboard new users:
Step 2 — Set up a Payment Method
Most companies pay for their trips with a credit card, premium companies can also set up SEPA/monthly invoicing instead. Unless you have opted for a premium account, TravelPerk is free to use.
Jump to the Payment Help Page to learn more.
Step 3 — Create an Invoice Profile
An Invoice profile determines what Legal Entity a trip should be invoiced to. When creating a TravelPerk account the company name is automatically used to create the first Invoice Profile, which is set as the company default. Take our example company, Hooli, they have 5 offices around the world and have created an Invoice Profile for each office:
Hooli Ltd (HQ) invoiced in GBP
Hooli Inc (US office) invoiced in USD
Hooli SL (Spanish Office) invoiced in EUR
Hooli GmbH (German office) invoiced in EUR
Hooli SPA (Italian office) invoiced in EUR
Take a look at the Invoices section of our Help Center to learn more.
Step 4 (Optional) — Set a Travel Policy or Approval Process
TravelPerk lets you set up and automate your company's travel policies. Go to Company Settings → Travel Policy to set your restrictions on:
The maximum cost of flights or hotels
The Cabin class or star rating allowed
Deadlines for booking. e.g how many days in advance flights must be booked
Here's what you Travel Policy page might look like:
You can also set Approval Processes for teams or individuals by going to Company Settings → Approval Settings and clicking Add Approval Setting. Here's what your Approval Settings page might look like: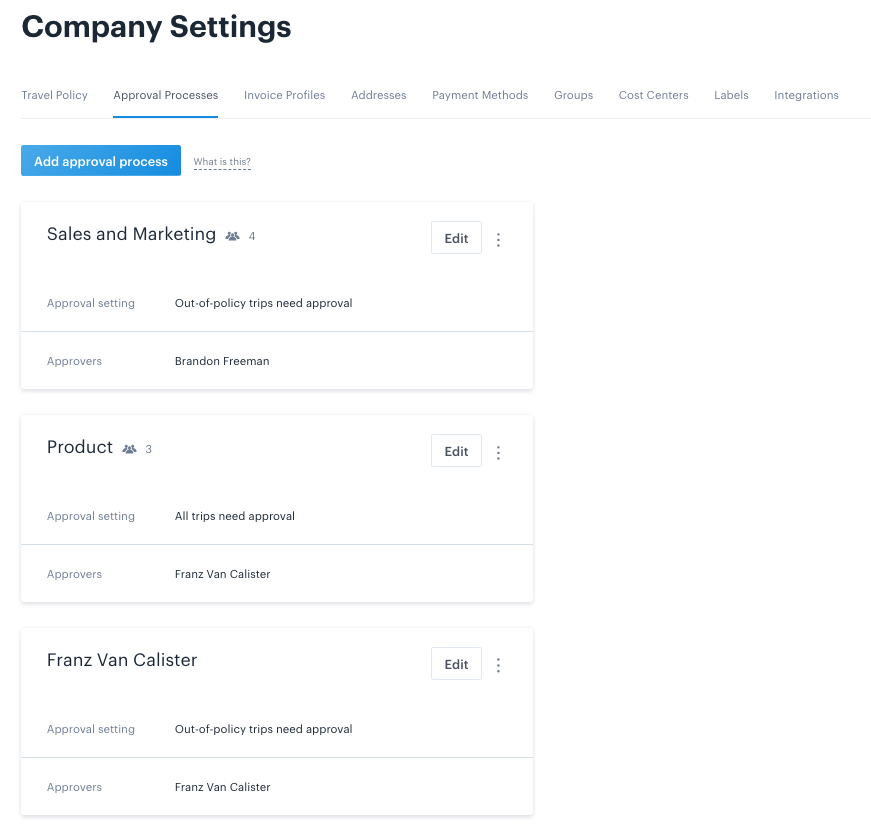 Head to our articles on Managing your Travel Policy or Approvals Process here.
Step 5 — Manage your company's business travel, all in one place
And you're all set! Now you can start managing all your business travel and travelers in one place.
Here are some articles you might find useful:
What's next?
Now that your team is ready for take off  ✈️,  They can hop over to the Getting Started for new Travelers Guide where we show you how to manage your account settings, create and book trips, add loyalty programs, and other neat features to make business travel simple and much more enjoyable.
For any emergencies, last minute changes or cancellations, contact our 24/7 customer support. 💁‍♂️
And don't forget the other articles on this Help Center.