👑 Approval Processes are a Premium feature
Who can use this feature?
Only Admins have access to the Company Settings.
What is an Approval Process? 
A customized approval process controls who is allowed to book what. This makes it easy to manage employee travel activities and costs. 
How do I set one up?
How do they work? 
Approval processes are broken down into three levels:
Company level: The default settings for all employees
Group level: An approval process for a specific group of employees
User level: An approval process for a specific employee
The approval settings are hierarchical meaning an individual policy will overrule a group one, and a group policy overrules a company policy.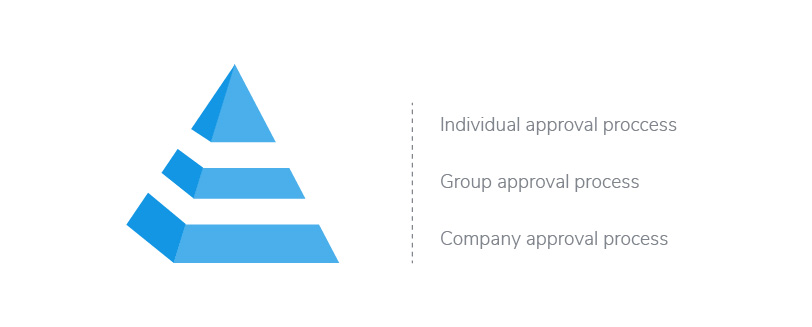 By default, a company will have no approval process. This means that employees can book trips freely with no approval process in place.
Good to know: If a user is a member of multiple groups, the least restrictive group approval process will be applied.
You can choose to apply an approval process:
Only for out-of-policy bookings
For every booking
You'll need to select one or more approvers for each group or user. Approvers are the people who will have the authority to approve or decline a requested booking
If no approver is assigned, approval requests will be sent to the company administrators
Good to know: You can delete or update your approval settings at any time. When you delete an approval setting, existing trips and requests will not be affected. The original approvers will still be able to approve all pending trip requests.